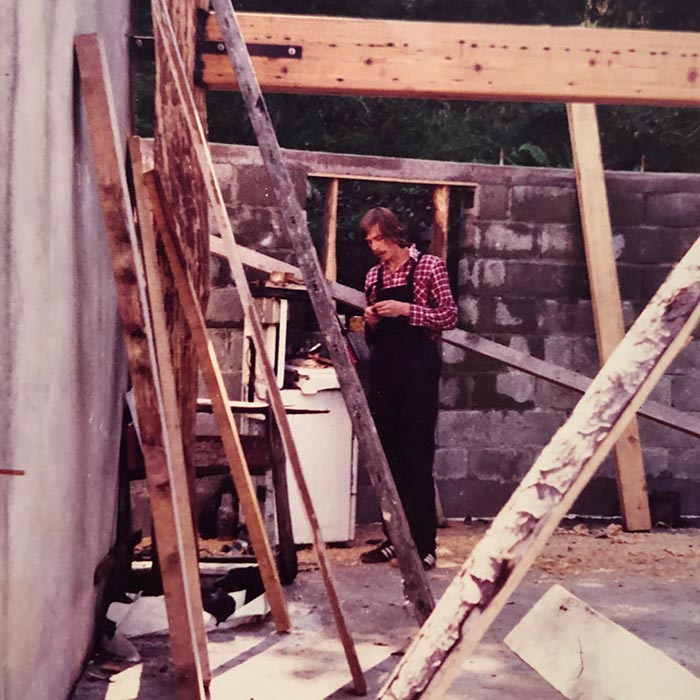 OUR HISTORY
First Generation
Reinhold Holbein Sr. began his carpentry training in a small workshop in Dingelstadt, Germany in the late 1940s, and became a master carpenter at the young age of twenty-two. Reinhold's experience of carpentry, joinery and functional production inspired his son Winfried, along with his siblings, from a young age to learn the skills of their father and modestly laid the foundations for Holbein Carpentry & Joinery.
Second Generation
In the late 1970s, Winfried brought his own training and knowledge to Kenmare. In his new rural setting, he went back to the basics of his craft by developing an abundance of hand tool experience as well as expanding his knowledge of solid timber, further expanding upon the knowledge already passed on by his father's years of experience. He began producing various joinery projects in his traditional stone cottage, where his modest living room doubled as his first workshop.
During the difficult economic times of the 1980s, Winfried put his skills and professional knowledge into developing a tree nursery. Oliver, the eldest of his three sons, gained a lot of experience by working with his father transplanting trees and learning about the different types of wood and their uses. During the 1990s, Winfried built traditional Irish harps from select native Sally trees. It was at this point that Oliver grew a love for and began to develop an understanding of the use of trees and their various characteristics. During the late 1990's, Winfried renovated the family home. For Oliver, this was a very enjoyable experience, which enhanced his love for carpentry and motivated him to continue the family tradition and learn the skills of his father and grandfather.
Third Generation
Oliver obtained a Higher Certificate in Furniture Production from GMIT, Letterfrack in 2002. After graduating, he worked in a joinery for two years before establishing Holbein Carpentry & Joinery Ltd. in 2004. Oliver began primarily manufacturing stairs with his father and with the aid of his youngest brother Robin, who was still in school at the time.
In 2005, the business was expanding and a new workshop was built to facilitate the company's increasing needs. Oliver's brother Colm, who had also been self-employed in the construction industry, joined Holbein Carpentry & Joinery at this time. He had always been very skilled with machinery, and had graduated from CIT with a degree in Mechanical & Manufacturing Engineering. This experience combined with his knowledge from growing up in a family tradition of carpentry, made him an integral part of the company's development at its early stages and ever since. At a later time, Oliver and Colm's youngest brother, Robin, graduated from CIT with a degree in Mechanical Engineering and has since joined the company as a part-time CNC programmer and system developer.
Between 2005 and 2007, Holbein Carpentry & Joinery focused predominantly on designing and building stairs. From 2008 to 2013, the company began to produce more high-end bespoke products, including kitchens, furniture, and full house finishes. Curved stairs also became a speciality of Holbein Carpentry & Joinery for which a strong reputation was developed in Kerry and Cork. 2013 saw the company move forward technologically with the addition of a CNC machine in the workshop.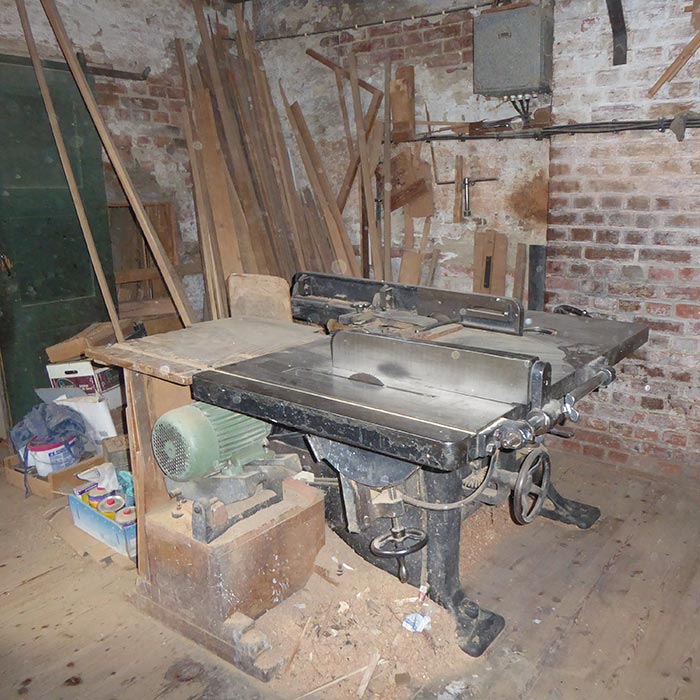 In 2015, Holbein Carpentry & Joinery expanded to a larger workshop in Kenmare. The move has been instrumental in the continuous growth and development of the business. Since then, the company has employed several more staff members, has integrated many new machines into the workshop production, and has increased the products and services offered to client's. Furthermore, the company was able to increase its capacity for commercial work and is now able to supply a range of fire doors, as well as a large undertaking of doors, windows, stairs, batch production, and installations.
In 2017, Michael O'Sullivan joined the company, and began working closely with Oliver. He has been a driving force in developing a brand and identity for the company by further establishing a reputation for Holbein Carpentry & Joinery, that is associated with unique products and quality. Between 2017 and 2020, the company expanded our fleet of vans and implemented lean manufacturing systems (Lean manufacturing is a methodology, that focuses on minimising waste within manufacturing systems, while simultaneously maximising productivity). It has always been the attitude and goal of Holbein Carpentry & Joinery to reach maximum efficiency, deliver quality, and optimise the process as a whole. This proved for an easy transition towards lean systems, as many of its values were already integral to the running of the business.  Lean manufacturing is now employed in every aspect of Holbein & Carpentry & Joinery's daily business.
In 2019, Holbein Carpentry & Joinery purchased the workshop and the surrounding land. In early 2020, the company invested in a state of the art external extraction system, which greatly improves the quality of working conditions, as well as protecting the long-term health of our team.
Over the years, Holbein Carpentry & Joinery has rapidly developed and evolved to become the company it is today. We look forward to what is sure to be a bright future.
Holbein Carpentry & Joinery is a family-run business, with 75 years of experience across 3 generations.